---
(NaturalNews) As we enter the final chapter of America -- characterized by obscene delusions and widespread insanity at every level -- sometimes you have to laugh at the absurdity of it all.
That's what I do with Counterthink cartoons, which have traditionally poked fun at Big Pharma, mercury-based dentistry, bad government and other low-hanging fruit in the satire sector.
But now, thanks to the new wave of delusional insanity we witnessed last week with events like the Confederate flag hysteria, we've decided to start presenting Counterthink concepts as a series of
satirical inspirational posters
.
These posters expose the absurdity and contradictions in the distorted views of the delusional mob now ruling American society. The marketing model for promoting these posters is to simply let the thought police attack them, thereby demonstrating precisely the points the posters are trying to make.
So to all the self-righteous thought police trolling the 'net these days, my only request is that you
please share and condemn these posters using the original links on Counterthink.com
, as that's our only way to receive traffic from your word-of-mouth efforts. Thank you in advance for accidentally sharing the truth!
Tolerance means silencing those who disagree
We begin this hilarious tour of society's delusional contradictions with a poster called "tolerance."
Tolerance, we've now learned, shouldn't be universal. It should only be applied to whatever group is currently howling the loudest, even if that group is itself wildly intolerant of everybody else and spewing hate at every opportunity.
The more your group screams about tolerance, it turns out, the more you can get away with actually being extremely hateful and belligerent toward everybody else.
As this Counterthink poster explains, tolerance is "so important, we must silence those who don't see it the way we do."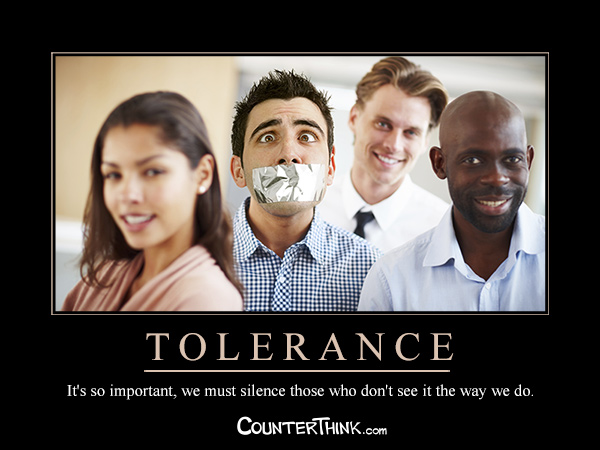 Source:
http://counterthink.com/Tolerance-Poster.asp
Great moments in (fake) history
Now we turn to a "great moments in history" parody which exposes the contradiction in the way the delusional mob behaves today over issues of skin color and flag color.
This poster image invokes the great quote of Martin Luther King Jr., whose words are in fact revered by this author and this poster. Unfortunately, the modern delusional masses have abandoned the original words of MLK and now leap to judging people by not just the color of their skin, but also the color of their flag (such as the Confederate flag).
In a truly tolerant, colorblind society, we wouldn't judge people by the color of their skin nor the color of their flag. But that society will never exist as long as self-incensed haters of historical symbols keep ginning up hatred for the particular symbols they don't like.
This poster is essentially saying to society, "Have you so easily forgotten the words of MLK and why we shouldn't judge people by colors and labels?" The political left in America today now
contradicts MLK and claims they can judge people by the color of their flag.
In fact, the political left is
judging an entire geographic sector of America
-- the South -- by falsely claiming that all southerners are racist, bigoted miscreants, merely because one crazy lunatic happened to post a picture of himself with this flag. (He was also wearing a Gold's Gym t-shirt, but I don't see any outrage against Gold's Gym...)
Of course, as California keeps collapsing, all those same people keep
trying to relocate to Austin, Texas
, but that's a contradiction they don't seem to mind.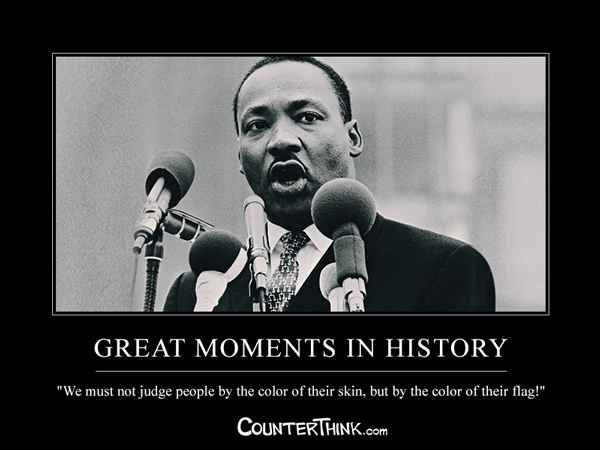 Source:
http://counterthink.com/Great-Moments-in-His...
The only flag tolerated by the left
Over the past week, we also saw the political left in America go berserk with "flag paranoia," creating an absurd conspiracy theory that claimed all objects displaying the Confederate flag -- such as video games, books and movies -- promote racial hatred and bigotry.
It's stupid, of course. But in a world where indigenous tribes still worship wood carvings as gods, I suppose it shouldn't be a surprise when the political left thinks colorful flags have magical powers to turn ordinary people into racist bigots. Hence the need to delete actual history from the memory of American culture. (Orwell, anyone?)
Populist corporations like Walmart, by the way, absolutely love the flags of terrorists groups like ISIS. As
this article explains
, when a customer went to Walmart to order a cake with a Confederate flag, he was turned down. But when he returned and asked for a cake with the Islamic State Flag, Walmart was thrilled to comply!
Since last week, it has now emerged that the left also hates the
American flag
, because apparently the American flag has "flown over generations of oppression." So now the American flag is on the chopping block, as well as everything America was founded upon (the Constitution, the Bill of Rights, Christianity, etc.).
So this Counterthink poster explains that the only flag tolerated by the left is a blank white surrender flag, which has the hilarious dual properties of being
completely blank
as well as inferring a national surrender to the leftist agenda. The blank white flag represents the only state of mind that's also tolerated by the left. To fit in, you must exist as nothing but a
blank slate
to be programmed, manipulated and exploited by the idiotic, self-contradicting agenda narratives of the left: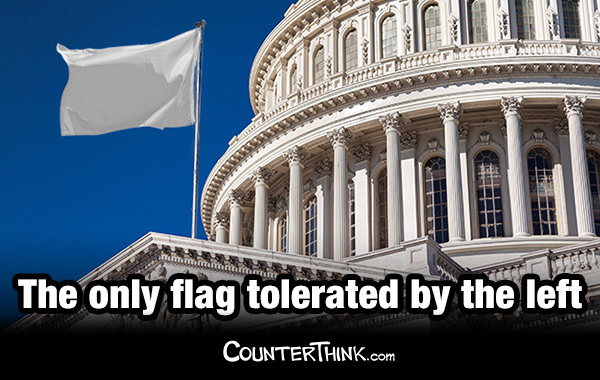 Source:
http://counterthink.com/The-Only-Flag-Tolera...
More Counterthink posters coming soon!
Like many people witnessing the fall of our modern society, I refuse to let the howling, delusional mob silence critical thinking and free speech. That's why I will continue to post even more Counterthink posters, each one laying out a contradiction held by the delusional mob.
We've got some hilarious Counterthink posters planned on subjects like EQUALITY, DIVERSITY, JUSTICE and PRIVACY. Every poster promises to disturb a whole new hornet's nest of howling mob members who truly know nothing of actual history, law, liberties or philosophy. But that's the point: expose the contradictions and then let the delusional mob demonstrate those contradictions in real life.
See more cartoons at
www.Counterthink.com
About the author:
Mike Adams (aka the "
Health Ranger
") is a best selling author (#1 best selling science book on Amazon.com) and a globally recognized scientific researcher in clean foods. He serves as the founding editor of NaturalNews.com and the lab science director of an internationally accredited (ISO 17025) analytical laboratory known as
CWC Labs
. There, he was awarded a
Certificate of Excellence
for achieving extremely high accuracy in the analysis of toxic elements in unknown water samples using ICP-MS instrumentation. Adams is also highly proficient in running liquid chromatography, ion chromatography and mass spectrometry time-of-flight analytical instrumentation.
Adams is a
person of color
whose ancestors include Africans and Native American Indians. He's also of
Native American heritage
, which he credits as inspiring his "Health Ranger" passion for protecting life and nature against the destruction caused by chemicals, heavy metals and other forms of pollution.
Adams is the founder and publisher of the open source science journal
Natural Science Journal
, the author of numerous peer-reviewed science papers published by the journal, and the author of the world's first book that published ICP-MS heavy metals analysis results for foods, dietary supplements, pet food, spices and fast food. The book is entitled
Food Forensics
and is published by BenBella Books.
In his laboratory research, Adams has made numerous food safety breakthroughs such as revealing rice protein products imported from Asia to be
contaminated with toxic heavy metals like lead, cadmium and tungsten
. Adams was the first food science researcher to document
high levels of tungsten in superfoods
. He also discovered
over 11 ppm lead in imported mangosteen powder
, and led an
industry-wide voluntary agreement
to limit heavy metals in rice protein products.
In addition to his lab work, Adams is also the (non-paid) executive director of the non-profit
Consumer Wellness Center
(CWC), an organization that redirects 100% of its donations receipts to grant programs that teach children and women how to grow their own food or vastly improve their nutrition. Through the non-profit CWC, Adams also launched
Nutrition Rescue
, a program that donates essential vitamins to people in need.
Click here
to see some of the CWC success stories.
With a background in science and software technology, Adams is the original founder of
the email newsletter technology company known as Arial Software
. Using his technical experience combined with his love for natural health, Adams developed and deployed the content management system currently driving NaturalNews.com. He also engineered the high-level statistical algorithms that power
SCIENCE.naturalnews.com
, a massive research resource featuring over 10 million scientific studies.
Adams is well known for his incredibly popular
consumer activism video blowing the lid on fake blueberries
used throughout the food supply. He has also exposed
"strange fibers" found in Chicken McNuggets
,
fake academic credentials
of so-called health "gurus," dangerous
"detox" products imported as battery acid
and sold for oral consumption,
fake acai berry scams
, the California
raw milk raids
, the
vaccine research fraud
revealed by industry whistleblowers and many other topics.
Adams has also helped
defend the rights of home gardeners
and protect the
medical freedom rights of parents
. Adams is widely recognized to have made a remarkable global impact on issues like GMOs, vaccines, nutrition therapies, human consciousness.
In addition to his activism, Adams is an accomplished musician who has released
over a dozen popular songs
covering a variety of activism topics.
Click here to read a more detailed bio on Mike Adams, the Health Ranger
, at HealthRanger.com.
Take Action: Support Natural News by linking to this article from your website
Permalink to this article:

Embed article link: (copy HTML code below):

Reprinting this article:
Non-commercial use OK, cite NaturalNews.com with clickable link.
Follow Natural News on Facebook, Twitter, Google Plus, and Pinterest