---
(NaturalNews) As promised, we've now published the results from testing countertop water filters for their ability to remove toxic heavy metals and elements with radioactive isotopes. The brands we tested are:
* Zero Water
* Pur
* Brita
* Seychelle
* Culligan
* Mavea
* Waterman Portable Alkaline Water Purifier
(We also tested large "survival" gravity filters, with results to be published separately here on Natural News.)
Click here to see the full results at the Natural News Forensic Food Lab
.
What we tested
Using ICP-MS instrumentation (
see lab videos here
), we tested these water filters for their ability to
remove
toxic heavy metals and elements which have radioactive isotopes.
Specifically, we tested for removal of:
* Aluminum
* Copper
* Arsenic
* Strontium
* Cadmium
* Cesium
* Mercury
* Lead
* Uranium
Why didn't we test for fluoride removal?
Fluoride is an extremely difficult element to work with due to its high reactivity (which is one reason why you probably shouldn't drink it). It is also very difficult to remove from water. Testing fluoride concentrations via ICP-MS requires a complicated process run separately from other elements, using different matrix solutions and different plumbing for the instrument.
How we tested for heavy metals removal
To conduct the tests, we created a multi-element "spike" solution containing from 1300 ppb to 2300 ppb concentrations of each of the tested elements. This spike solution consisted almost entirely of laboratory-grade
water
(DI water), with a very small fraction (less than 0.1%) of laboratory acids found in element standards for the purpose of matrix stabilization.
For each water filter, we first ran several cycles of pure water through the filter in order to "flush" it and pre-load the filter cartridge with purified laboratory water. Once that was complete, we loaded each water filter pitcher with the spiked solution containing the multiple elements listed above.
After the water passed through the filter and was emptied into the holding section at the bottom of the pitcher, that filtered water was then sampled with a clean pipette, weighed on a calibrated laboratory scale and prepped for ICP-MS analysis.
Each sample was run via ICP-MS using a variety of quality control methods, including the use of calibration checks during the run and a four-point calibration curve for each element. Keep in mind that our ICP-MS instrumentation is
far more accurate and sensitive
than labs running ICP-OES. In fact, we have had to correct other labs using ICP-OES who discovered their calibrations were way off. The Natural News Forensic Food Lab is in the process of ISO 17025 certification.
Click here to see the actual results at Labs.NaturalNews.com
Click here to learn about Heavy Metals Defense
, a supplement invented by the Health Ranger for capturing toxic heavy metals during digestion.
What we did NOT test for
We did not test for removal of PCBs, pesticides, chlorine or other organic compounds. Accordingly, we cannot reach any conclusions on how well these
filters
might work on removing those substances.
Testing for those complex molecules would require additional instrumentation which we do not yet have in our lab. (Remember, the Natural News Forensic Food Lab is entirely self-funded and receives no grant money from the government.)
Performance overview
What shocked me the most about the results of this testing is just how poorly most water filters performed on the removal of toxic heavy metals.
Most of the
water filters
we tested were entirely unsatisfactory in terms of heavy metals removal, in my informed view. Only two filters showed results which I would consider to be sufficient. Most filters also appeared to perform very poorly for
removal
of elements with radioactive isotopes (uranium, cesium, strontium).
Here's an overview of what we found, element by element:
Aluminum removal
Four of the seven filters tested here actually
increased
aluminum concentrations in the filtered water.
This indicates they are using a filtration media which contains aluminum and allows some amount of aluminum to enter the water stream during filtration.
Only one filter removed 100% of all aluminum (Zero Water).
See full results here.
Copper removal
Copper removal ranged from a low of 8.6% to a higher of 99.1%.
The average copper removal rate was 44.8%.
Copper is associated with mental insanity if consumed in very high quantities. Many homes still contain copper pipes, causing copper contamination of tap water.
Arsenic removal
Arsenic removal ranged from 12.1% to 99.3%, with an average removal of 42.6%.
Arsenic is a cancer-causing metal that's linked to cancer and organ damage. It's a common contaminant in well water.
Click here to see full results on arsenic removal.
Cadmium removal
Cadmium is a toxic heavy metal which can cause kidney damage, heart damage and hardening of the arteries.
Cadmium removal ranged from 6.6% (Brita) to a high of 99.2% (Zero Water). The average removal was 33.1%.
Mercury removal
Mercury is an extremely toxic heavy metal that can cause brain damage, kidney damage and reproductive damage.
Because mercury is a "sticky" element, it's the easiest to remove of all. Removal rates ranged from 62.4% (Culligan) to a high of 99.7% (Waterman Mini).
Average mercury removal across all the filters was 88.5%.
Lead removal
Lead is a toxic heavy metal that causes brain damage and organ damage in the human body. Natural News has found significant quantities of lead in Organic Rice Protein superfoods imported from China.
Lead removal ranged from a low of 14.1% (Brita) to a high of 93.7% (Waterman Mini).
Average lead removal was 52.5%.
Strontium removal
In its non-radioactive form, strontium is a bone-building nutrient that's often found with calcium.
Some water filters removed almost no strontium (Brita and Mavea), while the Zero Water Filter removed 100% of strontium.
One filter, the Waterman mini,
increased
strontium concentrations in the resulting water, indicating use of strontium in the filter media. This is not a bad thing. Strontium is actually a nutritive mineral, much like calcium.
Cesium removal
Cesium removal is important to consider due to the Fukushima disaster and the radioactive fallout of Cesium-137.
I am intimately familiar with cesium binding and removal technologies, as I invented the patent-pending Cesium Eliminator dietary supplement that binds with and captures radioactive isotopes of cesium.
In our testing of water filters, cesium removal varied from a low of 9.5% (Brita) to a high of 100% (Zero Water).
Average cesium removal was 35.3%.
Uranium removal
Removal of uranium is crucial for those planning on surviving a nuclear accident or nuclear war. Following nuclear events, uranium and cesium both fall out of the sky in radioactive forms, settling on bodies of water which are used for irrigation and public water supplies.
Removing radioactive uranium isotopes from drinking water is a crucial survival strategy following a nuclear incident. Only two filters we tested showed an ability to remove substantial amounts of uranium: Zero Water and the Waterman Portable Alkaline Water Purifier.
Click here to see actual results and uranium removal rates for all filters
.
Magnesium mineralization
Two water filters we tested substantially
increased
the level of magnesium in the filtered water. The highest water mineralization rate was achieved by the Waterman mini filter, which is advertised as creating "alkaline water."
The claim is true. While the magnesium concentration of the water we poured into the water filters was only 1.3 ppm, the Waterman Mini increased the magnesium concentration of the resulting water to
nearly 250 ppm
.
This is a substantial increase in magnesium concentration. The Seychelle filter also increased magnesium concentrations to nearly 250 ppm, indicating it has a "mineralization" component in its filter cartridge.
Recommendations and conclusions
Based on the laboratory analysis completed here at Natural News, I can only recommend two water filters in the category of countertop "pitcher" filters.
Natural News does not sell any of the water filters tested here, but they are available at retailers like Amazon.com. If you wish to help support our non-profit efforts to conduct more testing, please
click this Amazon Smile link before shopping on Amazon.com
, and Amazon will donate 0.5% of your purchase price to the non-profit Consumer Wellness Center.
The two filters I recommend are:
1)
Zero Water
2)
Waterman Mini
Click here to see full laboratory testing results and data
.
Heavy Metals Defense - a breakthrough in dietary self defense
In addition to researching the removal of toxic heavy metals in water filters, I've also pioneered extensive, original research into heavy metals contamination of foods, superfoods and dietary supplements.
From this research, I was able to invent a patent-pending dietary supplement formula called "Heavy Metals Defense" which binds and captures toxic heavy metals during digestion.
This formula is laboratory validated to reduce heavy metals by the following factors:
Aluminum reduction: 98.7%
Arsenic reduction: 77.6%
Cadmium reduction: 98.5%
Copper reduction: 95.8%
Lead reduction: 99.9%
Mercury reduction: 92.9%
Uranium reduction: 76.5%
Click here to view the full laboratory results data on Heavy Metals Defense
and see how it works.
Essentially, Heavy Metals Defense works in a very similar way to the "ion exchange membrane" of the Zero Water filters. That's why the metals capturing capacity is so high.
Also, check out these other sources of
heavy metals
in your own kitchen: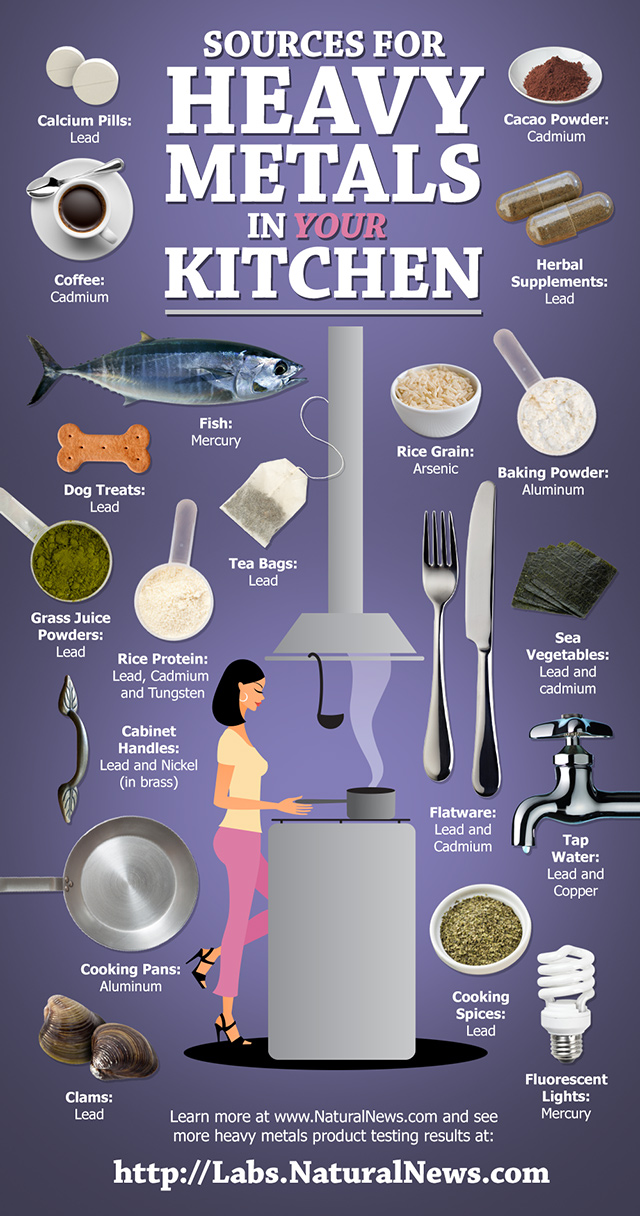 About the author:
Mike Adams (aka the "
Health Ranger
") is a best selling author (#1 best selling science book on Amazon.com) and a globally recognized scientific researcher in clean foods. He serves as the founding editor of NaturalNews.com and the lab science director of an internationally accredited (ISO 17025) analytical laboratory known as
CWC Labs
. There, he was awarded a
Certificate of Excellence
for achieving extremely high accuracy in the analysis of toxic elements in unknown water samples using ICP-MS instrumentation. Adams is also highly proficient in running liquid chromatography, ion chromatography and mass spectrometry time-of-flight analytical instrumentation.
Adams is a
person of color
whose ancestors include Africans and Native American Indians. He's also of
Native American heritage
, which he credits as inspiring his "Health Ranger" passion for protecting life and nature against the destruction caused by chemicals, heavy metals and other forms of pollution.
Adams is the founder and publisher of the open source science journal
Natural Science Journal
, the author of numerous peer-reviewed science papers published by the journal, and the author of the world's first book that published ICP-MS heavy metals analysis results for foods, dietary supplements, pet food, spices and fast food. The book is entitled
Food Forensics
and is published by BenBella Books.
In his laboratory research, Adams has made numerous food safety breakthroughs such as revealing rice protein products imported from Asia to be
contaminated with toxic heavy metals like lead, cadmium and tungsten
. Adams was the first food science researcher to document
high levels of tungsten in superfoods
. He also discovered
over 11 ppm lead in imported mangosteen powder
, and led an
industry-wide voluntary agreement
to limit heavy metals in rice protein products.
In addition to his lab work, Adams is also the (non-paid) executive director of the non-profit
Consumer Wellness Center
(CWC), an organization that redirects 100% of its donations receipts to grant programs that teach children and women how to grow their own food or vastly improve their nutrition. Through the non-profit CWC, Adams also launched
Nutrition Rescue
, a program that donates essential vitamins to people in need.
Click here
to see some of the CWC success stories.
With a background in science and software technology, Adams is the original founder of
the email newsletter technology company known as Arial Software
. Using his technical experience combined with his love for natural health, Adams developed and deployed the content management system currently driving NaturalNews.com. He also engineered the high-level statistical algorithms that power
SCIENCE.naturalnews.com
, a massive research resource featuring over 10 million scientific studies.
Adams is well known for his incredibly popular
consumer activism video blowing the lid on fake blueberries
used throughout the food supply. He has also exposed
"strange fibers" found in Chicken McNuggets
,
fake academic credentials
of so-called health "gurus," dangerous
"detox" products imported as battery acid
and sold for oral consumption,
fake acai berry scams
, the California
raw milk raids
, the
vaccine research fraud
revealed by industry whistleblowers and many other topics.
Adams has also helped
defend the rights of home gardeners
and protect the
medical freedom rights of parents
. Adams is widely recognized to have made a remarkable global impact on issues like GMOs, vaccines, nutrition therapies, human consciousness.
In addition to his activism, Adams is an accomplished musician who has released
over a dozen popular songs
covering a variety of activism topics.
Click here to read a more detailed bio on Mike Adams, the Health Ranger
, at HealthRanger.com.