AG Garland invokes Holocaust to 'defend his policies of persecuting, indicting and imprisoning his political opponents'
---
Attorney General Merrick Garland on Wednesday invoked the Holocaust during testimony before Congress to defend his policies of prosecuting and persecuting his political opponents and argued his Jewish "family background" means he's immune to wrongdoing.
(Article by Chris Menahan republished from InformationLiberation.com)
From The Gateway Pundit, "SICK! Lawless AG Merrick Garland Lectures on Holocaust to Defend His Policies of Persecuting, Indicting and Imprisoning His Political Opponents (VIDEO)":
After indicting the leading presidential candidate in America on bogus, manufactured, partisan charges Merrick Garland had the nerve on Wednesday to compare his ancestors fleeing Eastern Europe during the Holocaust to his lawless targeting, indicting and imprisoning of conservative Americans.

[...] On Tuesday Merrick Garland choked up while talking about his ancestors as he destroys American democracy.

Merrick Garland: All of us recognize that with this work comes public scrutiny, criticism, and legitimate oversight. These are appropriate and important given the matters and the gravity of the matters that are before the Department. But singling out individual career public servants who are just doing their jobs is dangerous, particularly at a time of increased threats to the safety of public servants and their families. We will not be intimidated.

We will do our jobs free from outside influence, and we will not back down from defending our democracy. Third, I want to explain why we approach our job in this way. The Justice Department was founded in the wake of the Civil War and in the midst of Reconstruction, with the first principal task of bringing to justice white supremacists and others who terrorize black Americans to prevent them from exercising their civil rights. The Justice Department's job, then and now, is to fulfill the promise that it is at the foundation of our democracy that the law will treat each of us alike. That promise is also why I am here.

My family fled religious persecution in Eastern Europe at the start of the 20th century. My grandmother, who is one of five children born in what is now Belarus, made it to the United States, as did two of her siblings. The other two did not. Those two were killed in the Holocaust, and there is little doubt that. But for America, the same thing would have happened to my grandmother.
WATCH:
Garland also invoked the Holocaust to dodge a question from New Jersey Rep. Jeff Van Drew on his FBI/DOJ targeting traditional Catholics as "violent extremists" and suggested his Jewish heritage means he's incapable of wrongdoing.
"The idea that someone with my family background would discriminate against any religion is so outrageous -- so absurd," Garland scoffed.
"Mr. Attorney General, it was your FBI that did this," Drew shot back. "It was your FBI that was sending -- and we have the memos and we have the emails -- that was sending undercover agents into Catholic Churches!"
Garland's goons did target Traditional Catholics and infiltrate their parishes and only backed off the program after they were exposed.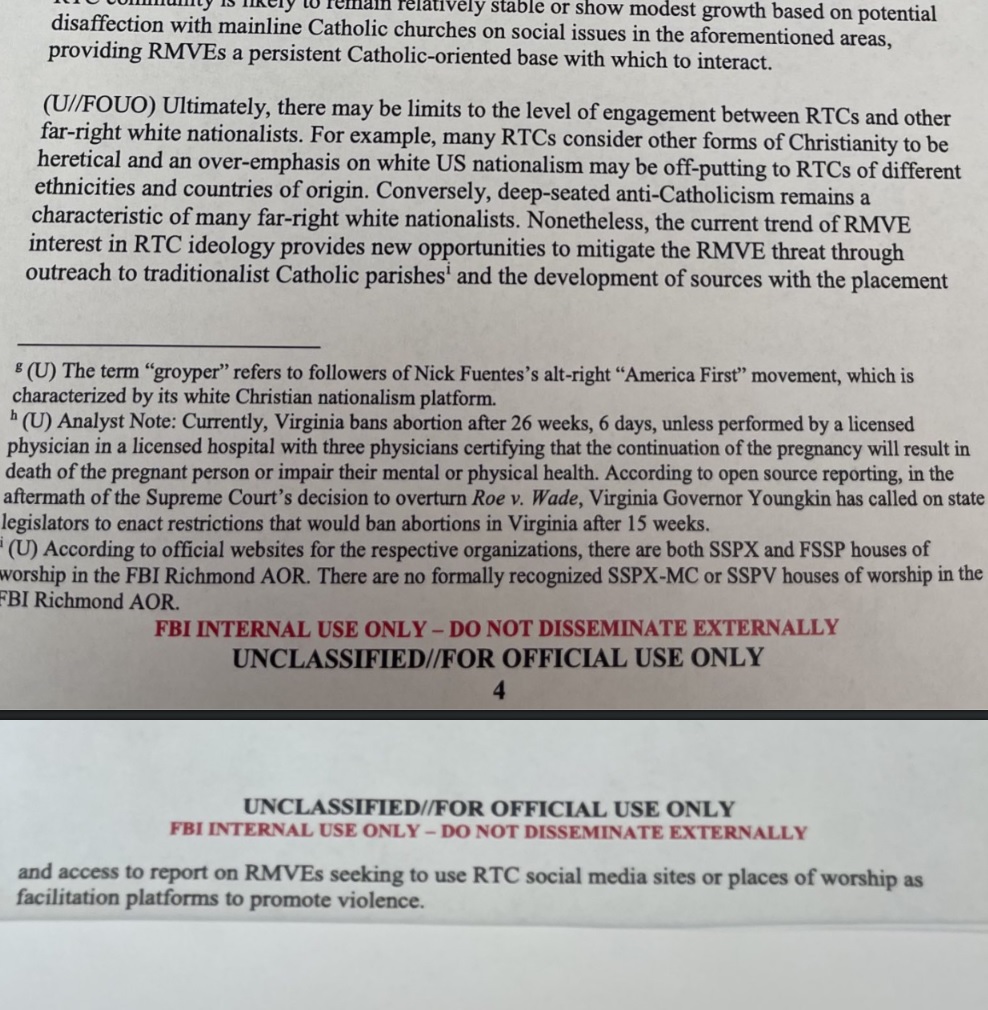 Though Garland claimed his Jewishness means he's immune from wrongdoing and said he's "appalled" by the memo, he told Drew he doesn't even know if anyone was fired for drafting the memo.
Garland is the most extreme Attorney General in American history and has made a mockery of our justice system.
In a sane country, Garland would have been ousted from power a year ago and referred for criminal prosecution.
Read more at: InformationLiberation.com