---
(Natural News) The British military is warning that space-based nuclear attacks are becoming much more probable via new systems and technology being pursued and deployed by Russia and China.
In particular, stronger weapons systems that include hypersonic nuclear-armed missiles that can hit targets on the other side of the world after briefly exiting the earth's atmosphere are being developed rapidly by both countries, even as the United States and Western-centric NATO countries lag far behind in this technology.
As such, more NATO countries have begun to reassess both their offensive and defensive capabilities along the "final frontier" of space, Zero Hedge noted, citing the British Ministry of Defense report that was published last week.
The report said that aggressors are seeking a potential capability of being able to launch an "exo-atmospheric nuclear strike" that would result in the decimation of societies — a "permanent kill" scenario, to quote the UK Defense Ministry's terms.
Even more daunting, the report says that the UK government's ability to ensure the qualities of "daily life" for citizens in the future will largely depend on control of space, and it's a contest where Britain's "adversaries" are quickly gaining distinct advantages.
"Daily life is reliant on space and, for the Armed Forces, space underpins vital, battle-winning technologies. From space we can deliver global command & control, communications, intelligence, surveillance and reconnaissance, precision navigation, and more. Adversaries understand this reliance and are increasingly able to exploit vulnerabilities, threatening our strategic stability and security," the report states.
The only way to protect against complete annihilation from space, the MoD reasons, is complete cooperation with other Western allies in ways that ensure control of space or, at a minimum, equal capabilities to inflict similar damage on a potential enemy.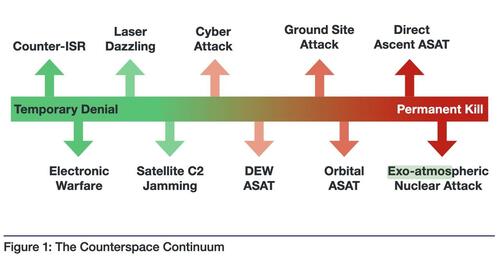 The report notes that while it's crucial to maintain "space domain" dominance, the "constant, aggressive" great power competition to establish dominance in the space domain creates vulnerabilities for the UK and the "way of life" for its citizens.
It also recognizes a host of threats — from cyber and electromagnetic pulse attacks to an "exo-atmospheric nuclear attack," the latter being a nuclear-tipped missile guided by satellite or even one that is launched from a space-based platform.
Though the U.S. Space Force that was initiated under former President Donald Trump is not mentioned specifically, the UK MoD report goes on to say that "broadening and deepening multinational cooperation" is the country's only means of permanently securing its boundaries and meeting its security needs regarding the space domain.
The report doesn't list specific measures Britain plans to pursue in order to defend itself outside of investing billions of pounds in new space reconnaissance capabilities as well as taking part in the U.S.-led "Olympic Defender" program.
The report does specifically address Russia's burgeoning anti-satellite capabilities and mentions recent anti-satellite tests carried out by Moscow that spread space debris (without mentioning similar U.S. and Indian tests):
Examples of International Threats – Russia has conducted a number of on-orbit activities that have drawn attention and concern from allies and partners across the globe. These include contesting the electromagnetic spectrum, targeting the vital link between satellites and ground segments, as well as satellites in orbit that can release smaller secondary and even tertiary devices (like a Russian doll), with the possibility that some may have a destructive capability. Twice in 2020, Russia continued with its series of test-launches of Direct Ascent Anti-Satellite weapons and in 2021 Russia conducted a destructive test that resulted in at least 1500 trackable pieces of debris in low earth orbit that was condemned by many.
This destructive anti-satellite missile test by Russia shows a complete disregard for the security, safety and sustainability of space. The debris resulting from this test will remain in orbit, putting satellites and human spaceflight at risk, for years to come.
It's clear that space is no longer considered off-limits, militarily, by both China and Russia, adding a new level of nuclear holocaust danger to the survival of the planet.
Sources include: