Maricopa County defies subpoena, won't release hardware for election audit over 'security risk'
---
Update (1400ET)
: Something must be really worrying Democrats. There appears to be a full court press effort to delay and defer any and every effort to audit Maricopa County's election results. The Biden justice department added to pressure from Arizona's chief elections officer (a Democrat) and the Arizona Democratic Party, and now, 
Daniel Payne at JustTheNews.com reports
 that 
officials in Arizona's Maricopa County are withholding materials subpoenaed by the state legislature as part of its audit of the county's 2020 election
, claiming that surrendering them would constitute a security risk for both law enforcement and federal agencies.
(Article by Tyler Durden republished from ZeroHedge.com)
A Monday letter sent from the Maricopa County Attorney's Office to Ken Bennett, the former Arizona secretary of state and the liaison between the state Senate and the auditors, said the county had elected not to turn over "several routers" requested by the legislature due to an alleged "significant security risk to law enforcement data utilized by the Maricopa County Sheriff's Office as well as numerous federal agencies."
Given that President Biden is the most popular president ever and we know from the mainstream media that there was no, none, zip, nada, election fraud anywhere in America, why are Democrats so aggressively interfering in the process of auditing the county's election?
Update (1300ET): Shortly after Arizona's top elections officer raised concerns about the Maricopa County election audit process, the Biden Department of Justice piled on, expressing concern about ballot security and potential voter intimidation.
https://twitter.com/DowdEdward/status/1390325406859812866
As AP reports, in a letter to GOP Senate President Karen Fann, the head of the Justice Department's Civil Rights Division said the Senate's farming out of 2.1 million ballots from the state's most populous county to a contractor may run afoul of federal law requiring ballots to remain in the control of elections officials for 22 months.
And Principal Deputy Assistant Attorney General Pamela S. Karlan said that the Senate contractor's plans to directly contact voters could amount to illegal voter intimidation.
"Past experience with similar investigative efforts around the country has raised concerns that they can be directed at minority voters, which potentially can implicate the anti-intimidation prohibitions of the Voting Rights Act," Karlan wrote.

"Such investigative efforts can have a significant intimidating effect on qualified voters that can deter them from seeking to vote in the future."
So, Democrats play the race-card again?
"We are very concerned that the auditors are engaged in ongoing and imminent violations of federal voting and election laws," said the letter sent by the Brennan Center for Justice, the Leadership Conference and Protect Democracy.
Why are they so worried? They already told America there was no fraud?
*  *  *
As The Epoch Times' Mimi Nguyen Ly detailed earlier, Arizona's top elections officer Katie Hobbs on Wednesday alleged multiple points of concern regarding the forensic audit of the 2020 presidential election currently underway in Maricopa County.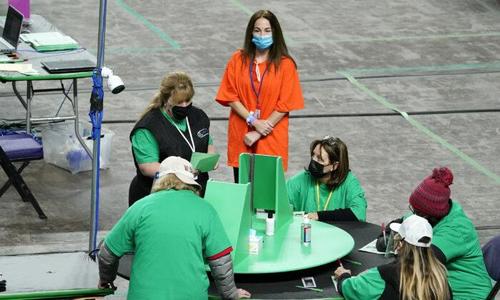 In a letter (pdf) to former Secretary of State Ken Bennett, a Republican who is the state Senate's liaison for the audit, Hobbs outlined 13 points of concern over how the audit is being run. This included seven points of concern over counting procedures that the state Senate and audit contractor Cyber Ninjas disclosed, as well as six points of concern over what her observers saw at the audit site.
Under terms of a lawsuit settlement filed on Wednesday, defendants Bennett, Arizona Senate President Karen Fann, and the lead auditor, Florida-based Cyber Ninjas have 48 hours to respond to Hobbs' concerns. If the concerns are not addressed, Hobbs could take them back to court for breach of contract.
The audit began on April 23 and continues at Arizona Veterans Memorial Coliseum in Phoenix, a venue the auditors have booked and secured until May 14.
Hobbs, a Democrat, alleged that the procedures governing the audit do not ensure accuracy, security, and transparency.
"I'm not sure what compelled you to oversee this audit, but I'd like to assume you took this role with the best of intentions," she told Bennett in the letter.

"It is those intentions I appeal to now: either do it right, or don't do it at all."
The Arizona Democratic Party filed a last-minute lawsuit against state Senate leadership to try to stop the audit from going ahead but their bid to immediately halt it was rebuffed by a judge. The settlement means the case has concluded.
"The settlement in ADP v Fann requires the Senate to have procedures to protect our ballots, election equipment, and data. Today, I put the Senate on notice that security shortfalls remain and must be addressed under the agreement," Hobbs said in a statement.
The official Twitter account for the audit, run by Bennet's team, said late on Wednesday that Hobbs "continues to make baseless claimes [sic] about this forensic audit but has never led an election audit in her entire career."
The message declared, "The audit continues!"
The group furthermore encouraged Twitter users to retweet if they think audits are a state right. Another statement released later on Wednesday reads:
"Democrat [Secretary of State Katie Hobbs] who does not support election audits or transparency now wants the Federal Government to get involved in the Arizona Senate forensic audit. Arizona has the authority to conduct this audit without interference from the Feds!"
Bennett did not immediately respond to a request for comment over the contents of Hobbs' letter.
He told the Arizona Capitol Times late Wednesday of Hobbs' concerns, "I think that most of the things in her letter are completely unfounded. And the ones that have a little bit of legitimacy can be dealt with pretty easily."
Bennett did not elaborate as to what concerns would fall into the latter category.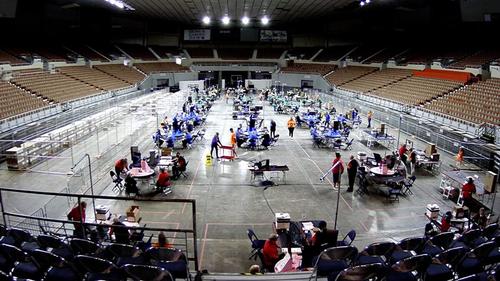 Real-time camera footage of Maricopa County's large-scale audit of the 2020 election, Maricopa County, Ariz. (Screenshot/The Epoch Times)
Among the seven concerns based on the disclosed procedures, Hobbs alleged that there were "no procedures for hiring qualified, unbiased counters." She noted that former State Representative Anthony Kern, a Republican, has been among the people counting the ballots in the audit.
Kern's name is listed on the ballot "not only as a candidate for State Representative but as a Presidential Elector—the exact race for which he is counting," Hobbs wrote, adding, "While these facts would be disqualifying in any professional recount or audit, unfortunately, there are additional reasons why Mr. Kern is not trustworthy to fulfill this role."
Hobbs in her letter also took aim at a number of procedures that she said "appear better suited for chasing conspiracy theories than as a part of a professional audit," which included using UV lights to search for watermarks, measuring the thickness of ballots, searching for folds in ballots, and looking at ballots under a microscope.
She said these measures are "completely unnecessary steps if the goal of the audit is to validate the election results."
She also questioned how tally sheets from ballot counters would be added up, and noted that her office had "received no real explanation" over the matter "other than that an accounting firm will handle it later."
"This is not transparency. Further, it appears that a single person enters the totals from the tally sheets into an electronic spreadsheet, leaving wide open the opportunity for error, inadvertent or otherwise," she wrote. "At minimum, a bipartisan team of at least two individuals should aggregate the tally sheets or otherwise confirm that data is entered accurately for aggregation."
In addition to concerns over the disclosed procedures, Hobbs alleged in her letter that observers from her office have seen a number of problems, which include inadequate physical security of ballots, unattended computers at the forensic analysis tables, constantly changing rules in the audit procedures since the beginning of the audit, and "frequent violations" of the procedures that do exist.
The Arizona Republican-led Senate previously hired four out-of-state firms to carry out the audit, which are Wake Technology Services, CyFIR, Digital Discovery, and Cyber Ninjas.
The state Senate has said that the "broad and detailed" audit "will validate every area of the voting process" and includes, but is not limited to, scanning all the ballots, a full hand recount, auditing the voter registration and votes cast, the vote counts, and the electronic voting system. This includes examining some 2.1 million ballots, as well as voting equipment that includes 385 tabulators.
Bennett told The Epoch Times on Monday that the audit may last longer than originally planned. An analysis of the equipment used in the 2020 election was completed over the weekend, but reviewing other materials will need more time, he said.
President Joe Biden was the first Democratic presidential nominee to win Maricopa County in decades.
Read more at: ZeroHedge.com and VoteFraud.news.