The 'new Red Dawn invasion of America' has begun: Under Joe Biden, America is wide open and 'ripe for the pickings' as the globalists kick their 'end game' into high gear
---
All the way back in 1984, what sure seems like an eternity ago, a movie now known as a 
'cult classic'
 stormed across the United States that 
depicted an 'America under occupation', with large parts of the country 'invaded and controlled' by the Soviet Union and its Cuban and Nicaraguan allies
.
(Article by Stefan Stanford republished from AllNewsPipeline.com)
With Soviet troops in the movie controlling most of the Southern USA, setting up 're-education camps' along the way in an attempt to 're-program' Americans, while 'disposing' of' those who weren't able to be successfully 're-programmed', nuclear war and nuclear fallout filled the movie 'Red Dawn', with several US cities destroyed by nuclear strikes while Americans all across the country went through TEOTWATKI, the 'end of the world as they knew it'.
And while this 2019 story over at The Independent asked as their story title "Was Red Dawn The Most Right-Wing Blockbuster Ever?", since when did wanting to defend one's country and one's freedom become 'right wing'? And what's so awfully bad about wanting to do so in a 2021 America that is now witnessing radical leftists steering the country towards perils both known and unknown?
With the movie 'Red Dawn' the 20th highest-grossing film of 1984, leftists immediately called the movie "an alarmist concept" that soon landed a place in the Guinness Book of Records at the time as 'the most violent film' ever, with a rate of 134 acts of violence per hour, or 2.23 per minute.
Also leading to leftist protests and the arrests of protestors at the MGM/UA building of at least 35 people who were opposed to the movie, filmmaker John Milius responded by saying words that would be utterly off limits in 2021 Hollywood and 'liberal' America:
"What these people really don't like is that the movie shows violence being perpetrated against Russian and Cuban invaders, which is what the demonstration was all about. My question is, where were all these demonstrators when the Russians shot down that airliner? Were they cheering? And what about the people being gassed and yellow-rained in Afghanistan? There's really no pleasure in outraging these people. I suppose next some extreme right-wing organization will give me an award, which is equally ridiculous."
And while Milius was proven partially correct when soon afterward, the Gun Owners of America announced that they were honoring Milius for "dramatically depicting the importance in our time of the Second Amendment", America may be headed on an equally perilous path as 'the Wolverines' of that movie, with Joe Biden and Democrats opening our doors to China, the United Nations and illegal aliens, all the while hoping to disarm the American people.
So as we'll explore within this ANP story, while at the moment, it might seem to some like World War 3 and/or an 'invasion' of America might be far away, the globalists have long been setting up Americans for the kill. And as the Daily Mail reports in their lead story of the day, under Joe Biden, America is now 'wide open' to anyone who wants to come in while Americans remain 'locked down'. Anyone else see something terribly wrong with that picture? How about the picture below?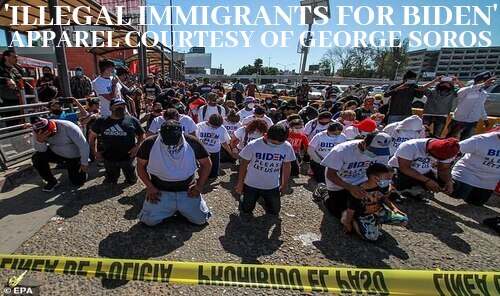 From 
that previously mentioned Daily Mail story
 before we continue.:
Lindsey Graham has warned that terrorists could try to smuggle in future jihadis through the U.S.-Mexico border, as Donald Trump said the situation threatened to 'destroy' the country - yet Joe Biden's administration refused to call it a crisis. 
Graham, senator for South Carolina, told Fox News' Sean Hannity on Tuesday night that the surge in unaccompanied child migrants was being sparked by Biden's change in policies. And he said it was dangerous. 'People are coming by the thousands. They'll be coming by the hundreds of thousands by the summer,' he said. 
'It's a humanitarian crisis: it's going to be an economic crisis for our cities along the border. 'And eventually it's going to be a national security crisis because they are children today, but they could easily be terrorists tomorrow.' Graham said that, with the 20th anniversary of the September 11 attacks coming up, 'Al-Qaeda and Isis would like nothing better than to hit us again.' 
Read more at: AllNewsPipeline.com and InvasionUSA.news.