'Red-list' style roundups of vaccine refusers another draconian measure coming to America: 'Color codes' with 'red flags' for violators the latest sign we'll all be targeted for extermination
---
With 
the Daily Mail reporting in this new story
 that China-Joe Biden is getting ready to purchase 200 million more Covid-19 vaccines, giving Biden and the US a total of 300 million 
'shots'
, with Biden's goal being to have ALMOST EVERY American vaccinated by this summer, one of the 
top-voted comments on the story
 is a dire warning to Americans of what's likely to come:
(Article by Stefan Stanford republished from AllNewsPipeline.com)
"No way do 300 million people want the vaccine. Get ready for mandates."
As that story reported, that 300 million total is enough for nearly the entire U.S. population, which has officially been estimated at 329 million, and therefore well over the 80% estimated to be the point at which there will be 'herd immunity'.
So while Biden is hoping for 'mass compliance' from the masses, actually believing that purchasing that many shots will encourage people to 'go out and get theirs', with some states going so far that they are bringing in dentists, school students and retirees to 'administer' the vaccines due to not enough doctors to do so, the fact that only about 1/2 of all Americans even WANT to get the vaccine is extremely concerning, with that 50% far less than what the Biden administration is shooting for to accomplish 'herd immunity'.
And with Biden also using the US military to roll out these shots across America being another hint of where this might go in the months ahead if not enough people want to take what has quite literally been the 'kill shot' for some, what happens when 1/3 to 1/2 of the country or more refuses to get vaccinated when Biden has already purchased hundreds of millions of shots and their goal is to vaccinate at least 80% of us?
As CNBC had reported in this story, they're already thinking up things that 'vaccine refusers' will not be allowed to do in the future, including being banned from flying, going into restaurants, entering stores as well as other 'venues' such as concerts and movie theaters. Can you imagine never being permitted to go into a store again? From the CNBC story.:
A perfect storm is brewing as Covid-19 vaccines start to roll out more widely in countries around the world. 
While many people can't wait to protect themselves from the virus, some are adamant that they won't get the jab, leaving populations divided into those that have been vaccinated and those that haven't.  
As a result of the differing views, a debate could start to emerge in 2021. Should any restrictions be imposed on people who choose not to get vaccinated given they can catch and spread the virus? 
It's a tricky subject but governments are already looking at introducing systems that would enable authorities, and possibly businesses, to tell if a person has had a Covid vaccine or not.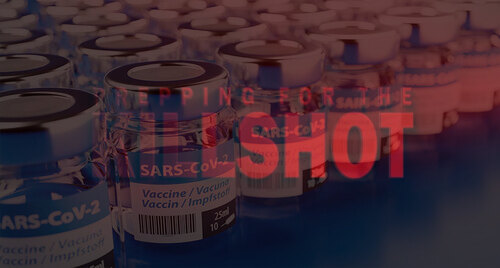 And as 
the CNBC story also reported
, if we want to get a look at how they plan on 
'enforcing'
 all of this burgeoning tyranny, all we need to do is take a look at what China is doing now. Or even Spain!
China has launched a health code app that shows whether a person is symptom-free in order to check into a hotel or use the subway. In Chile, citizens that have recovered from the coronavirus have been issued with "virus free" certificates. 
On Dec. 28, Spain's Health Minister Salvador Illa said the country will create a registry to show who has refused to be vaccinated and that the database could be shared across Europe.
And China's app will be giving their own citizens 'color codes', with 'red flags' for 'violators', with nothing less than people being allowed, or not allowed, into 'public spaces' based upon their 'coded color'. 
With Los Angeles County, California planning to 'vaccine passports' to allow Covid vaccine recipients to store proof of immunization on their phones another hint of what's coming to the rest of America, this important new story over at Lew Rockwell.com that Steve Quayle had linked to on his website Wednesday morning titled "Horrific Latent Deaths Predicted Among The Elderly By Genetics Professor After Immunization With RNA Vaccines" offers a dire warning of what awaits some who get the vaccine.
"I suppose there are potentially three adverse reactions (from messenger RNA vaccines—MODERNA, PFIZER). 
Read more at: AllNewsPipeline.com