'Never bet against me': Trump confident he'll get to 270 electoral college votes
---
President 
Donald Trump
, in a new interview, said he is confident that he will get to 270 Electoral College votes when all legal challenges, canvasses, audits, and recounts are resolved.
(Article by Jack Phillips republished from TheEpochTimes.com)
Trump told the Washington Examiner that he heard many people tell him that he should concede in recent days, but he's going to continue to fight.
He issued a light-hearted warning to people telling him there is no hope: "Never bet against me."
"We're going to win Wisconsin," Trump told the Examiner. "Arizona—it'll be down to 8,000 votes, and if we can do an audit of the millions of votes, we'll find 8,000 votes easy. If we can do an audit, we'll be in good shape there."
And in Georgia, he said, "We're going to win … because now, we're down to about 10,000, 11,000 votes, and we have hand-counting." Trump was responding to an announcement made by the Georgia Secretary of State's office that a full manual recount will be carried out.
"Hand-counting is the best. To do a spin of the machine doesn't mean anything. You pick up 10 votes. But when you hand-count—I think we're going to win Georgia," he added to the paper.
In Michigan and Pennsylvania, his campaign's legal strategy is focusing on protesting the exclusion of GOP observers during critical time periods during vote-counting, Trump said.
"They wouldn't let our poll watchers and observers watch or observe," Trump added. "That's a big thing. They should throw those votes out that went through during those periods of time when [Trump observers] weren't there. We went to court, and the judge ordered [the observers] back, but that was after two days, and millions of votes could have gone through. Millions. And we're down 50,000."
The secretaries of state in Pennsylvania and Michigan have denied allegations from Trump's team and Republicans that observers were not allowed there.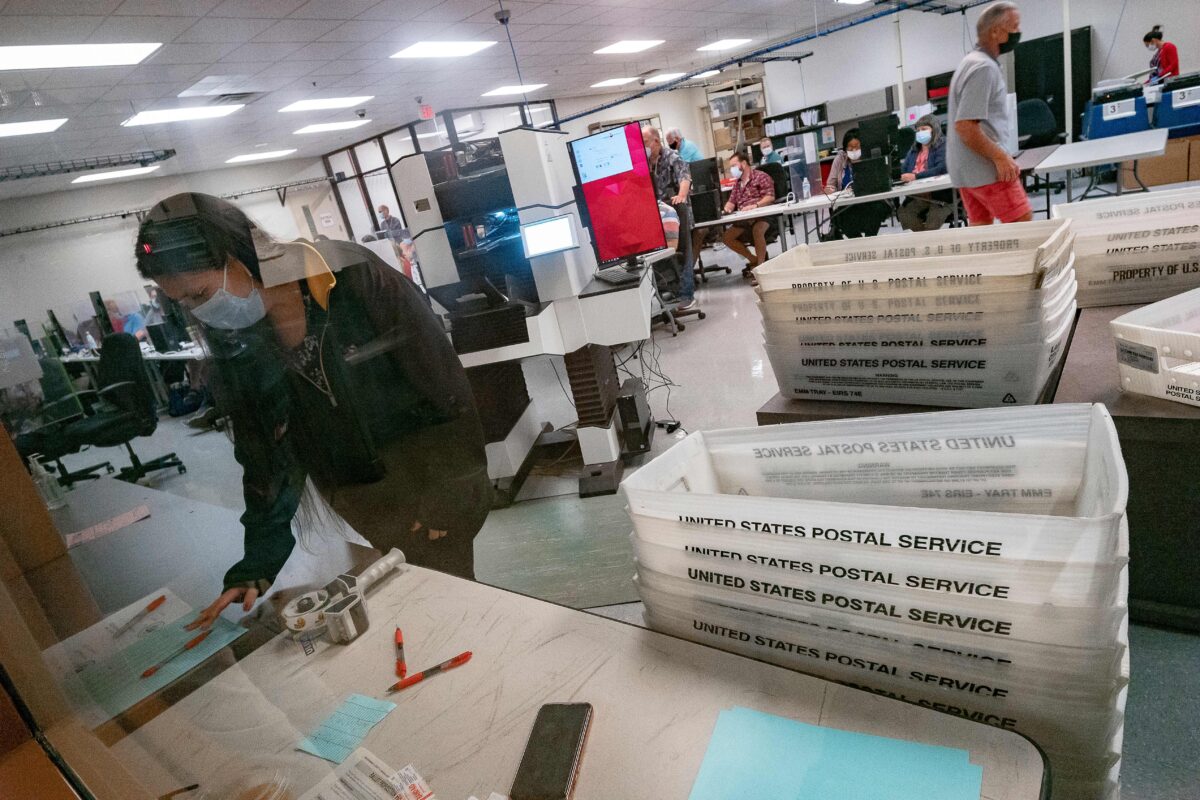 Their letter made reference to allegations about unsecured ballots arriving at the TCF Center in Detroit without a chain of custody and without any envelopes, saying it included a batch of about 40,000 ballots that came early on Nov. 4, the day after Election Day. They also said there have been reports of "illegal and official intimidation and interference" with election observers and poll watchers, including harassment of challengers, unequal treatment of challengers, refusal to record the challengers' claims, and removal of challengers "if they politely voiced a challenge."
Meanwhile, a state court in Pennsylvania on Thursday ruled that Secretary of State Kathy Boockvar improperly changed a deadline on a key voter identification provision two days before Election Day. Judge Mary Hannah Leavitt, who ruled in favor of Trump's campaign, said some late ballots should not be counted in the state.
Several prominent Republicans and legal experts said Trump's legal challenges are well within his rights and that Americans should not be alarmed by them. Some legacy news outlets and top Democrats have called on Trump to drop the lawsuits, while accusing the president of engaging in rhetoric that seeks to undermine the credibility of the election.
"Americans should not worry about these suits," wrote Jed Shugerman, a professor at Fordham Law School, for the Washington Post. "Indeed, we should welcome them." Shugerman, however, said he believes some of the lawsuits will be thrown out in court.
Later in the interview, Trump said that the fight for the Electoral College could turn around in a few weeks. "I don't know. It's probably two weeks, three weeks," Trump said of a possible timetable.
Read more at: TheEpochTimes.com