This could be the 'coronavirus game changer' – Retracted study from Chinese medical journal warned the killer virus could be airborne
---
This 
new story over at the Daily Mail
 deserves immediate attention this morning because if true, we're now witnessing a 
'coronavirus game changer'
. As 
the Daily Mail story reported
, doctors and scientists in China have been researching how one man there passed on the virus to 9 different people aboard a bus and 13 people in total and as that study concluded, not only can the virus be spread much further than previously believed, it can also 
'linger in the air for up to 30 minutes'
.
(Article by Stefan Stanford republished from AllNewsPipeline.com)
The first study finding that coronavirus can go airborne and be spread without contact with another person's saliva, bodily fluids or sneezes as had originally been reported as the main avenues of transmission, should this study be correct and the virus actually live in the air for any period of time at all, any mass transit, large gatherings of people such as a concerts, recitals, political rallies or even places where lots of people go such as grocery stores could be places where this virus lives in the air should someone who unknowingly has it and hasn't quarantined themselves be there shedding it to others.
With the CPAC Convention in Prince Georges County, Maryland the perfect example of how people may be exposed to the virus without even knowing they are in any danger with now at least 5 Congress people 'self quarantining' after coming in contact with the New Jersey resident at CPAC who already had the disease without knowing it at the time, how many more people who may have worked that Convention as waiters or waitresses or bus boys or hotel clerks or cleaning people may have also been exposed and now be contagious to pass it on to others unknowingly through their jobs as 'service people' to the public?
And while we'd absolutely hate to see 'medical martial law' be imposed upon the entire nation as we're now witnessing in Italy in an attempt to prevent the further spread of the killer disease, as Mike Adams reported in this March 10th story over at Natural News, that may one day become the only option left and it may soon be time for President Trump to put a temporary stop to mass travel though, in doing that, he'd immediately become a 'target' for the left who'd surely say he's acting like a dicator.
So while we'll continue to pray that it never comes to medical martial law in America, with hospitals being told to stockpile body bags, New York deploying the National Guard and quarantining an entire region and now the Democrat governor of the state of Washington preparing a major crackdown, we best prepare ourselves as if the virus will soon be everywhere as infectious disease specialist Tony Fauci has recently warned. And while the Daily Mail has just reported the study published in a Chinese Medical Journal had been retracted, who really believes ANYTHING that we're being told by China in 2020 anyways? Was the information it contained 'too accurate' for 'public knowledge'? From the Daily Mail story.:
A man infected with coronavirus spread the virus to nine other people on his bus, raising fears the killer infection can jump between people far easier than initially thought in confined places.
A study found two victims sitting 4.5 metres (14.7ft) away from the man were later diagnosed, which is four times what is considered a 'safe distance' to stand near an COVID-19 patient.
Countries including Italy and the UK have implemented one to two metre distancing between people to limit outbreaks.
The virus has been thought to spread via cough or sneeze droplets, but the study found germs can linger in the air for long periods of time.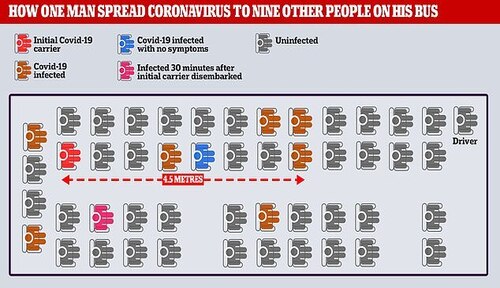 And while the aformentioned study which showed the layout of the bus above had been retracted, with only one man infected with coronavirus able to spread the virus to so many others on his bus, and apparently to people who were much farther away than the 'safe distance' than has been reported, as Mike Adams reports in this new story over at Natural News, potentially the only way to stop the spread of this virus will be for President Trump to completely 'lock down' America, just as we're witnessing now in Italy and had also seen in China. From Adams story.
Last night, we published a new pandemic projection model with a downloadable spreadsheet so you can run your own scenarios and see all the math and methodology behind the projection. You can download that spreadsheet from this article on Natural News.
That model introduced a new factor called the "social distancing suppression factor" which describes what percentage of infections are prevented due to social distancing: people staying home from work, closing schools, banning air travel, etc.
Using this tool, we've been able to run different scenarios that examine the R0 values of the virus vs. the social distancing suppression factor required to stop the virus from exponentially exploding across the country. This has revealed some fascinating data that speaks to the urgent need for the USA to follow Italy with a nationwide quarantine of everyone.
It is the only way this pandemic can be stopped, it turns out.
With Adams thoughts on this echoing what we had reported on ANP all the way back on February 1st in this story titled "Locking Down America & The Globalists End Game: Due To The 'Nature Of The Beast', Completely Stopping A Coronavirus Pandemic May Require 'Shutting Down Society'", as John W. Whitehead reported in this new story at the Rutherford Institute, what's about to unfold in America should our entire nation be 'locked down' under 'medical martial law' will surely be a huge test for the US Constitution. From Whitehead's story.:
"It takes a remarkable force to keep nearly a million people quietly indoors for an entire day, home from work and school, from neighborhood errands and out-of-town travel. It takes a remarkable force to keep businesses closed and cars off the road, to keep playgrounds empty and porches unused across a densely populated place 125 square miles in size. This happened … not because armed officers went door-to-door, or imposed a curfew, or threatened martial law. All around the region, for 13 hours, people locked up their businesses and 'sheltered in place' out of a kind of collective will. The force that kept them there wasn't external – there was virtually no active enforcement across the city of the governor's plea that people stay indoors. Rather, the pressure was an internal one – expressed as concern, or helpfulness, or in some cases, fear – felt in thousands of individual homes."—Journalist Emily Badger, "The Psychology of a Citywide Lockdown"
This is a test.
This is not a test of our commitment to basic hygiene or disaster preparedness or our ability to come together as a nation in times of crisis, although we're not doing so well on any of those fronts.
No, what is about to unfold over the next few weeks is a test to see how well we have assimilated the government's lessons in compliance, fear and police state tactics; a test to see how quickly we'll march in lockstep with the government's dictates, no questions asked; and a test to see how little resistance we offer up to the government's power grabs when made in the name of national security.
Most critically of all, this is a test to see whether the Constitution—and our commitment to the principles enshrined in the Bill of Rights—can survive a national crisis and true state of emergency.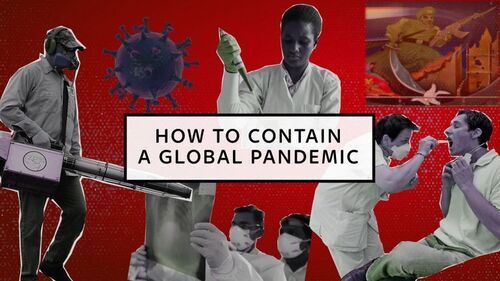 As Whitehead also pointed out in his story, this coronavirus pandemic has completely brought the Orwellian and authoritarian government of China out of hiding and the complete lockdown of Italy, what will it reveal about our 'government' here in America? While we completely understand that there are many people who would look at a major crackdown upon our 'freedom of movement' as a dictatorial move, if this outbreak is really as bad as the Spanish Flu that killed millions and millions between 1918 and 1920, such a move may very well be necessary to stop the spread of the virus.
Though as quickly as coronavirus became 'endemic' in the state of Washington, meaning the virus "is regularly found among particular people or in a certain area", and as quickly as it traveled all across Italy, causing their entire country to be 'quarantined' and 'locked down' as well, once it starts to spread rapidly here in America, does anybody really believe that mass lockdowns won't take place here as well?
In the first video at the bottom of this story, infectious disease expert Michael Osterholm joins Joe Rogan to talk about just how infectious COVID-19 is and while the entire interview is must-listen for those interested in finding out more about this virus from a medical expert, Osterholm's closing comments take the cake:
"My job is not to scare you out of your wits, but to scare you into your wits."
Giving Americans another huge reason to prepare, as if there will be no tomorrow to do so with these quarantines and crackdowns coming suddenly, even the CDC is now warning those over 60 years old and those with diabetes and other life threatening illnesses to 'stock up and prepare for a lengthy stay at home', just as Susan Duclos had reported a few days ago in this ANP story titled "Healthy Quarantine Zones: It Is Now Time For The Healthy To Self-Quarantine As A Preventative Measure".  
So with the handwriting of what is to come now on the wall, just as Susan had also mentioned within that story, there is no reason to dread going forward as long as we're prepared to ride out the storm.
And for those who still think that this virus is a 'hoax' and just another in a long line of democrat attempts to get President Trump out of office in November, at the bottom of this story we have embedded a must-read letter to President Donald Trump from Dr. Len Horowitz about coronavirus within which he warns of a potential 'Coronavirus Bioweapon', Media Bioterrorism, and Recommendations to Reduce Risks to Public Health and Safety.
Read more at: AllNewsPipeline.com