---
(NaturalNews) The big problem with functional mushrooms sold these days is that so many of them are contaminated with toxic heavy metals because they're grown in China. This is well known across the industry, but nobody talks about it publicly because they don't want customers to know the truth.
What truth is that? Many of the "medicinal mushrooms" sold on the market today are grown in China, and they're grown in contaminated media materials which contain alarming concentrations of heavy metals like lead.
Lead is a common contaminant in cheaply-grown functional mushrooms like Reishi, Shiitake, Maitake and Cordyceps. High lead equals a cheap price, and because so many mushrooms are marketed on price alone -- with no disclosure of their heavy metals content -- the low price usually wins. As a result, many consumers who think they're buying high-end "medicinal" mushrooms are also buying a whole lot of lead.
Another industry first: Low Heavy Metals Verified functional mushrooms grown in the USA
But today, we're changing all that. Over the past year, we meticulously sourced extremely clean,
high-potency functional mushrooms
grown and harvested in the USA
and
laboratory verified
to contain extremely low levels of heavy metals.
We did this because as an industry innovator and pioneer in the realm of heavy metals, we actually care about what our customers are consuming. Most retailers never test any of their products for heavy
metals
, but
we test EVERYTHING
for heavy metals (and we reject most sources of raw materials).
We also believe consumers have a right to know what they're eating when it comes to mushrooms, or
chlorella
, or rice protein or any other superfood. On top of that, we strive to
support U.S. farmers and growers
who produce quality products right here in North America.
That's why we've just launched
www.LowHeavyMetalsVerified.org
It's a non-profit, open-source website describing a set of strict standards for
low heavy metals
in superfoods, herbs, supplements and more.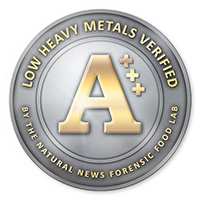 When we subjected our own functional mushrooms to ICP-MS laboratory testing for
heavy metals
, they rated as follows:
Lion's Mane: A++
Reishi: A+++
Maitake: A+++
Cordyceps: A+++
Shiitake: A+++
Turkey Tail: A++
Every one of these mushrooms tests at
zero lead and cadmium
, with a detection limit below 5 parts per billion.
Click here to get some of our low heavy metals verified mushrooms from the Natural News Store
.
Super clean, USA-grown mushrooms
Our laboratory-validated mushrooms are grown in a super clean medium of USA-grown brown rice. Our mushrooms are
never
grown in animal manure! Nothing comes from China, and every single production lot is tested for heavy metals using our
Forensic Food Lab
.
Every single mushroom product we sell is validated and rated with a certification seal, confirming the heavy metals content. These extremely low heavy metals levels can be confirmed by any ICP-MS laboratory.
Now, for the first time in history, people who buy functional mushrooms have a new, informed choice: laboratory-validated mushrooms with total transparency about what they truly contain.
Click here to get some now
.
Welcome to the new era of superfoods validated for low heavy metals
The heavy metals standards described at
www.LowHeavyMetalsVerified.org
are not just for Natural News; they're for everyone who wishes to use them.
This is a non-profit, non-commercial, open-source effort to bring increased transparency to foods, superfoods, herbs and more.
What you are going to see from here forward is more and more companies seeking to
validate the heavy metals composition of their products
using this scale, from "A+++" down to "F."
Products that rate "A" or higher will see a premium price in the marketplace. Products with lower ratings (or with no ratings at all) will have to be sold at lower prices because their heavy metals composition will be a mystery.
How will these low heavy metals ratings be regulated or policed? We will purchase off-the-shelf products that claim validated heavy metals levels and spot check them for accuracy. Any companies who are blatantly and maliciously lying about their heavy metals levels will be publicly exposed, so companies are strongly encouraged to test every single production lot if they intend to claim compliance with these voluntary standards.
Natural News Store is the first retailer in history to be Low Heavy Metals Verified
Watch for more products across the Natural News Store to be Low Heavy Metals Verified! We are the first retailer to adhere to such standards, and it's just one of the many ways in which Natural News is leading the natural products industry in the direction of enhanced consumer trust, transparency and safer products.
Quite literally,
we are setting the standards
for the industry; standards that mean cleaner superfoods, enhanced manufacturer transparency and vastly increased support for clean farming methods that help protect the natural world around us.
To help support our efforts,
shop now at the Natural News Store
. And have confidence, knowing we've tested every single product we sell for heavy metals.
About the author:
Mike Adams (aka the "
Health Ranger
") is a best selling author (#1 best selling science book on Amazon.com) and a globally recognized scientific researcher in clean foods. He serves as the founding editor of NaturalNews.com and the lab science director of an internationally accredited (ISO 17025) analytical laboratory known as
CWC Labs
. There, he was awarded a
Certificate of Excellence
for achieving extremely high accuracy in the analysis of toxic elements in unknown water samples using ICP-MS instrumentation. Adams is also highly proficient in running liquid chromatography, ion chromatography and mass spectrometry time-of-flight analytical instrumentation.
Adams is a
person of color
whose ancestors include Africans and Native American Indians. He's also of
Native American heritage
, which he credits as inspiring his "Health Ranger" passion for protecting life and nature against the destruction caused by chemicals, heavy metals and other forms of pollution.
Adams is the founder and publisher of the open source science journal
Natural Science Journal
, the author of numerous peer-reviewed science papers published by the journal, and the author of the world's first book that published ICP-MS heavy metals analysis results for foods, dietary supplements, pet food, spices and fast food. The book is entitled
Food Forensics
and is published by BenBella Books.
In his laboratory research, Adams has made numerous food safety breakthroughs such as revealing rice protein products imported from Asia to be
contaminated with toxic heavy metals like lead, cadmium and tungsten
. Adams was the first food science researcher to document
high levels of tungsten in superfoods
. He also discovered
over 11 ppm lead in imported mangosteen powder
, and led an
industry-wide voluntary agreement
to limit heavy metals in rice protein products.
In addition to his lab work, Adams is also the (non-paid) executive director of the non-profit
Consumer Wellness Center
(CWC), an organization that redirects 100% of its donations receipts to grant programs that teach children and women how to grow their own food or vastly improve their nutrition. Through the non-profit CWC, Adams also launched
Nutrition Rescue
, a program that donates essential vitamins to people in need.
Click here
to see some of the CWC success stories.
With a background in science and software technology, Adams is the original founder of
the email newsletter technology company known as Arial Software
. Using his technical experience combined with his love for natural health, Adams developed and deployed the content management system currently driving NaturalNews.com. He also engineered the high-level statistical algorithms that power
SCIENCE.naturalnews.com
, a massive research resource featuring over 10 million scientific studies.
Adams is well known for his incredibly popular
consumer activism video blowing the lid on fake blueberries
used throughout the food supply. He has also exposed
"strange fibers" found in Chicken McNuggets
,
fake academic credentials
of so-called health "gurus," dangerous
"detox" products imported as battery acid
and sold for oral consumption,
fake acai berry scams
, the California
raw milk raids
, the
vaccine research fraud
revealed by industry whistleblowers and many other topics.
Adams has also helped
defend the rights of home gardeners
and protect the
medical freedom rights of parents
. Adams is widely recognized to have made a remarkable global impact on issues like GMOs, vaccines, nutrition therapies, human consciousness.
In addition to his activism, Adams is an accomplished musician who has released
over a dozen popular songs
covering a variety of activism topics.
Click here to read a more detailed bio on Mike Adams, the Health Ranger
, at HealthRanger.com.
Take Action: Support Natural News by linking to this article from your website
Permalink to this article:

Embed article link: (copy HTML code below):

Reprinting this article:
Non-commercial use OK, cite NaturalNews.com with clickable link.
Follow Natural News on Facebook, Twitter, Google Plus, and Pinterest