---
(NaturalNews) According to
an analysis
just published by the
Wall Street Journal
, healthy people will pay double or triple their current health insurance rates under Obamacare. Rates for those with chronic disease, however, will be reduced as all the healthy people subsidize their disease lifestyles.
The net effect is that people who choose to follow a healthy lifestyle -- eating well, taking nutritional supplements, exercising and avoiding junk foods -- will be financially punished by the federal government while those who choose to follow a disease and sickness lifestyle -- eating junk foods, taking meds, refusing to exercise, etc. -- will be rewarded by government.
This is the essence of socialized medicine: punish responsible citizens while rewarding those who refuse to take care of their health.
Disease is a matter of cause and effect, not luck
Obamacare, like all socialized medicine systems, is based on the false premise that health outcomes are a matter of pure luck. Disease just "randomly strikes people," the thinking goes, and individuals have nothing to do with their own health. This false belief fits nicely with the financial interests of Big Pharma and doctors, of course, because it puts the power of health in the hands of corporations and medical personnel.
But the premise is utterly false.
Health is almost never a matter of luck
. It's a matter of cause and effect. What you eat, what you're exposed to, what you absorb and how much time you invest in exercise almost entirely determines the
health
outcome you experience. Choose to eat healthy foods and you get vastly improve health outcomes. Choose to exercise on a daily basis (even with something as simple as walking), and you also get vastly improved health outcomes.
The Obama administration claims to be "pro choice" on the issue of abortion, yet it denies the existence of "choice" when it comes to personal health. Why is that?
Obamacare is actually designed to
punish you for making wise choices
about your health. It actually creates a financial disincentive for people to take care of their own health, as it allows people to conclude, "Well what does it matter whether I eat well? The government covers my health insurance costs now, so even if I get a disease, it's all paid for."
Seriously, many people actually think that way, and
Obamacare
encourages more and more people to abandon healthy eating as a form of disease prevention which used to be tied to economic savings. Now, instead, it costs you more to be healthy. So the economics are upside down.
The upside-down economics of Obamacare
This is the new America: a nation where you are rewarded for being sick, or addicted to junk foods, or sitting at home watching television while sipping liquid ice cream all day long. Meanwhile, the burden of actually paying for all this falls on the shoulders of the ever-shrinking few who actually make informed decisions about their own personal health and therefore tend to be far healthier than the norm.
When governments intervene to such extremes, twisting the laws of economics to the point where up is down and down is up, it only leads to enormous confusion and poor decision making on the part of consumers. A sensible health care system should
reward people for making smarter investments in their own health
. Those who take responsibility for their health and choose to eat well, exercise regularly and avoid toxic chemical exposure should pay LESS for health care, not more.
In a sensible system, there would be a strong economic disincentive for living a lifestyle of eating junk foods and sitting on the couch all day. But apparently, even recommending that people are responsible for their own health is a violation of political correctness which says that "you can't blame people for their own actions." Criticizing people for making poor decisions about their own health is strongly condemned in today's upside-down culture. Today, we are all encouraged to REWARD poor decision making at every level: personal health, personal finance, government regulation and even bankster bailouts, where the government rewards people who lose trillions of dollars by giving them trillions more!
Get cancer, win $100,000!
So don't be surprised if Obamacare actually announces a
disease reward system
where Americans get cash prizes for being diagnosed with cancer. "Get cancer, win $100,000!" will be the new motto, because the average cancer patient is worth over $1 million in revenues to the medical system.
"Get diabetes, win $50,000!"
"Get Alzheimer's, win $200,000!"
And sure enough, where there is a reward, people will find a way to achieve it, even if it means killing themselves with junk food and chemicals.
So all of you who choose to take care of your health and make wise decisions about your diet, exercise and personal care products are about to be economically punished by Obama. You will have to pay double or triple your current rates, and the worst part is that your money will be used to economically reward those who choose to live a life of junk foods, TV watching and toxic personal care products (shampoo, soap, detergents, deodorants, cosmetics, etc.).
This is essentially the U.S. government forcing taxpayers to
subsidize disease-promoting lifestyles
. And because more and more Americans are getting sick from all the "death culture" foods and products in the marketplace, an increasing financial burden will be place on those who take care of their health. So we become a society of people supported by the
healthy
who are dragged down by junk food eaters and med-heads who refuse to take responsibility for their own health.
This is not a formula for making America healthier. Rather, it is a recipe for a sickness disaster. And thanks to the
U.S. Supreme Court decision
on the "individual mandate," now you can't even opt out of the system. You are forced --
at gunpoint
thanks to an army of new IRS agents who are
being trained with AR-15s
-- to pay into this system that rewards sedentary junk food lifestyles.
Is it any wonder America's health keeps deteriorating while the profits of drug companies and cancer centers keep multiplying?
But business is booming, so it must be good!
http://counterthink.com/The_Sick_Care_Econom...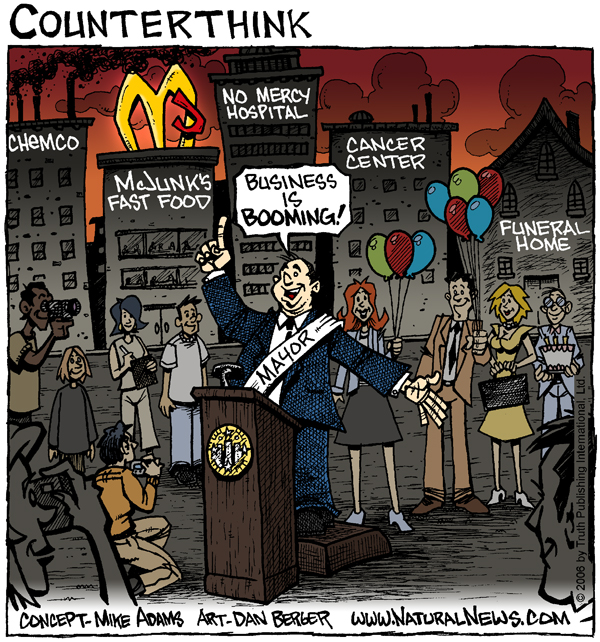 About the author:
Mike Adams (aka the "
Health Ranger
") is a best selling author (#1 best selling science book on Amazon.com) and a globally recognized scientific researcher in clean foods. He serves as the founding editor of NaturalNews.com and the lab science director of an internationally accredited (ISO 17025) analytical laboratory known as
CWC Labs
. There, he was awarded a
Certificate of Excellence
for achieving extremely high accuracy in the analysis of toxic elements in unknown water samples using ICP-MS instrumentation. Adams is also highly proficient in running liquid chromatography, ion chromatography and mass spectrometry time-of-flight analytical instrumentation.
Adams is a
person of color
whose ancestors include Africans and Native American Indians. He's also of
Native American heritage
, which he credits as inspiring his "Health Ranger" passion for protecting life and nature against the destruction caused by chemicals, heavy metals and other forms of pollution.
Adams is the founder and publisher of the open source science journal
Natural Science Journal
, the author of numerous peer-reviewed science papers published by the journal, and the author of the world's first book that published ICP-MS heavy metals analysis results for foods, dietary supplements, pet food, spices and fast food. The book is entitled
Food Forensics
and is published by BenBella Books.
In his laboratory research, Adams has made numerous food safety breakthroughs such as revealing rice protein products imported from Asia to be
contaminated with toxic heavy metals like lead, cadmium and tungsten
. Adams was the first food science researcher to document
high levels of tungsten in superfoods
. He also discovered
over 11 ppm lead in imported mangosteen powder
, and led an
industry-wide voluntary agreement
to limit heavy metals in rice protein products.
In addition to his lab work, Adams is also the (non-paid) executive director of the non-profit
Consumer Wellness Center
(CWC), an organization that redirects 100% of its donations receipts to grant programs that teach children and women how to grow their own food or vastly improve their nutrition. Through the non-profit CWC, Adams also launched
Nutrition Rescue
, a program that donates essential vitamins to people in need.
Click here
to see some of the CWC success stories.
With a background in science and software technology, Adams is the original founder of
the email newsletter technology company known as Arial Software
. Using his technical experience combined with his love for natural health, Adams developed and deployed the content management system currently driving NaturalNews.com. He also engineered the high-level statistical algorithms that power
SCIENCE.naturalnews.com
, a massive research resource featuring over 10 million scientific studies.
Adams is well known for his incredibly popular
consumer activism video blowing the lid on fake blueberries
used throughout the food supply. He has also exposed
"strange fibers" found in Chicken McNuggets
,
fake academic credentials
of so-called health "gurus," dangerous
"detox" products imported as battery acid
and sold for oral consumption,
fake acai berry scams
, the California
raw milk raids
, the
vaccine research fraud
revealed by industry whistleblowers and many other topics.
Adams has also helped
defend the rights of home gardeners
and protect the
medical freedom rights of parents
. Adams is widely recognized to have made a remarkable global impact on issues like GMOs, vaccines, nutrition therapies, human consciousness.
In addition to his activism, Adams is an accomplished musician who has released
over a dozen popular songs
covering a variety of activism topics.
Click here to read a more detailed bio on Mike Adams, the Health Ranger
, at HealthRanger.com.
Take Action: Support Natural News by linking to this article from your website
Permalink to this article:

Embed article link: (copy HTML code below):

Reprinting this article:
Non-commercial use OK, cite NaturalNews.com with clickable link.
Follow Natural News on Facebook, Twitter, Google Plus, and Pinterest